How Business Owners Use Self Storage To Help Succeed.
If you're in business, part time or full time and running a business from home, shop or office, you may be fed up of seeing stacks of boxes with your stock or paperwork strewn around. If this sounds familiar, read on to discover how a self storage unit can help you manage your business more efficiently, affordably and safely.
Keeping work and home life separate:
More people are starting online businesses and selling products on their e-commerce websites and third-party sites like Amazon, Vinted or eBay. You might have a website selling collectables or new imported items. Regardless of the goods you sell, self-storage becomes a vital part of your business plan, especially if your business is growing. The alternative is cramming inventory in every possible area of your house, which undeniably results in your home and work life colliding, leaving you feeling overwhelmed, distracted and frustrated. On the other hand, a storage unit provides enough space for your inventory, ensuring your home is free from clutter and the stress of work. It also allows you to organise better and easily get your items ready for shipment when orders roll in.  All without the ever increasing cost of renting a shop or business unit and the ever increasing associated running costs.
Offers total security and peace of mind:
Many small businesses that are service based or specialise in selling goods know the challenge of not having a designated spot to store items. For example, if you're a handyman or handywoman, you may find that your car gets crowded with equipment because you're on the road, driving from one job to the next. You may even leave your tools in the car because you have no space for them at home. Although this sounds convenient, it opens up the risk of your equipment getting damaged and even stolen. To avoid this, Need A Space storage units are protected with the right security, such as 24/7 CCTV monitoring, electronic gate controls, and exterior and interior lighting.
Unbeatable affordability in times of rising costs;
If you operate from a small shop or office, renting a self storage unit is affordable and convenient. The alternative is expanding your retail space or renting warehouse storage. However, small business owners with limited stocks will likely find both options too costly and too big. The good news is if you choose to rent a self storage unit you will have enough space for inventory and other items at a fraction of the price. By keeping your stocks offsite in a convenient, cost effective and easily accessible location, your retail or office area will be kept neat, and the items you specialise in will have enough space to shine! In addition, Need A Space can offer services such as mailing addresses, logistics, van rental as well as a parcel drop off and dispatch point.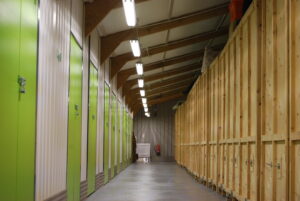 Keep your paperwork in one place:
Using a storage unit to keep all your paperwork is a smart move, especially if you don't have space in your home. There are lots of self-employed professionals who rely heavily on client files, transactions and business reports. And while not all paperwork is meant to be kept indefinitely, much of it is. Therefore, it's essential to have a record of all your documents. A self storage will not only keep your papers safe and secure, it can provide peace of mind if the provider you choose offers a climate controlled environment. This will protect your documents from humidity, pests and water damage.
As you can see, self-storage has evolved from just storing personal effects and seasonal items. It can now be an extension of your business and allows you to plan, organise and live better.  At Need A Space, we want to make it a little easier for you to run your business. We offer self storage units that are affordable, secure, and conveniently located just off the A2 between Canterbury & Faversham in Kent. To find out more, contact us or give us a call on 01227-751673. Our family run friendly team can arrange a site visit for you with no obligation and discuss all of our size and space options.