Self Storage a popular choice with Hobbyists
Many of us have hobbies of one kind or another, at Need A Space we have the storage space with easy access and the ability to organise your hobby.
  What starts out as collecting a few teddy bears, model cars, records or fishing gear for example can grow quite substantially over the years. Some hobbies turn into small businesses, selling via online marketplaces such as record collections or toys. Others develop an interest in craft making and need the storage to help organise materials. Self storage can help organise your collection.
Some hobbies take up more space than others or grow to such an extent that they become too cumbersome at home or unpopular with partners and other household members.
For example, some people decide to collect classic toys. These have to be kept in pristine condition and ideally in their original packaging. This means if you have more than three or four of them you'll end up struggling to find room to store them all. You've probably seen news stories about ardent collectors of all kinds of things over the years. Normally they're pictured in what was their spare bedroom, standing among piles of whatever they collect, surrounded by shelves from the floor to the ceiling.
It's no wonder then that some people opt to keep their ever-expanding collection in a storage space instead of at home. This is particularly true if they have an expanding family too and need the space. It does make a lot of sense and it ensures the entire collection is kept in pristine condition too. This applies to all kinds of collectible items. You can always keep your favourite pieces at home if you want to hang onto some of them, maybe rotating your stock from time to time to give you something fresh to look at.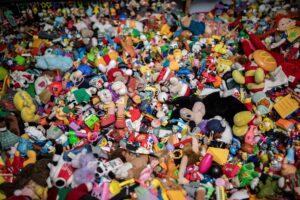 This works for all kinds of collectibles too. All you need to do is to make sure they're kept off the floor and are safely stored in boxes or in other things that will keep them safe. For instance, in the case of classic comics, you can put each one in a sealed plastic bag designed to keep it safe.
So if you're looking at a collection of items that form part of a collectible hobby, think about making the most of that collection and storing it in a self-storage space now. You may just be glad you did.
Need A Space are conveniently located just off the A2 between Canterbury and Faversham, contact us for friendly storage advice and the lowest rates around.