The glory of Canterbury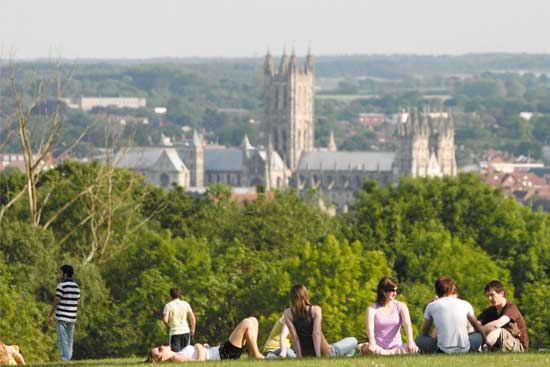 Need A Space self-storage sits in the heart of arguably the most famous British county – Kent. Within easy reach of Faversham, Canterbury, the Medway towns and Herne Bay, Need A Space offers exceptional self – storage and removals services to both residents and businesses in these and surrounding areas. We never take for granted the wonderful countryside and towns around us. Many of the towns go back over 1000 years in their origins. Perhaps the most well-known is the city of Canterbury.
Go back to the 12th Century
The greatest attraction in Canterbury of course is the magnificent cathedral. The spectacular building houses many stunning features, including a Romanesque crypt, a perpendicular nave and beautiful medieval stained-glass windows. But most of all this evocative christian temple will take you back to the 12th century as you visit the resting place of Thomas Beckett. Venerated as a saint of the Catholic church, his assassination when he was the archbishop, has confirmed him as a martyr.
Shoulder to shoulder with Chaucer
One of the first great publications in the 14th century in the English language – after the invention of the printing press by Thomas Caxton – was The Canterbury Tales. Live costumed characters act out the stories or you can also take the audio guide to view first hand how the book relates to the old city.
Breathe in living history
The cobbled streets at the centre of the town reflect how the town may have looked over 400 years ago. Many of the houses are listed buildings and so are direct reminders of the Tudor and Stuart age. The main shopping routes are a mix of modern cutting-edge shops and brands and the unique "olde worlde" look which is so precious and evocative.
A night with the Bard
Drama aficionados will adore the Marlowe Theatre. Named after Christopher Marlowe, the sixteenth century playwright who was writing at the same time as Shakespeare, this is a centre for cutting edge modern plays and fabulous re-enactments of those classic plays we love so much.
Something for everyone
And there is so much to do! There is something for  all the family. From the Beaney House of Art and Knowledge to art classes at the Conquest House gallery. Are you a wine lover? Then give the Barnsole Vineyard a visit – it's totally free. Or if you are the type who like getting out there and doing some healthy walking, look into the Barham and Adisham Walk or the Blean Woods National Nature Reserve.
Whatever you are into there is something always going on here in Canterbury – even if you just want to have a coffee in a really cool shopping centre while watching the world go by. So next time you are visiting Need A Space why not plan for a whole enjoyable day and take in the wonders of Canterbury.